In this article, you will find much interesting and important information about dental veneers in Turkey. We have prepared the answer to the most prevalent question about this method of dental treatment. You will find information about all features of dental veneers. Also, we will tell you about the prices for dental help in Turkey. 
Anaesthesia
Local or local with sedation
Cost of dental veneers in Turkey
The cost of dental veneers can vary according to several factors. One of them is the place. That is why let us inform you about the price of dental veneers in Turkey. This country provides a low cost for dental help in comparison to other countries. It is one of the reasons why it is better to visit our CatchLife Aesthetic clinic in Turkey to get veneer treatment. You will get a high-quality teeth correction here. We will care about your smile and will make your teeth perfect. That is why, if you want to get dental veneers, visit us. We guarantee you a long-lasting result.
Porcelain veneers

from £80

Lumineer veneers

from £371

Zirconia veneers

from £460
Factors that affect the cost of dental veneers in Turkey
Well, let us tell you about other factors that affect the cost of dental veneers. We have already discussed one of them. It is the place. However, the price is not only one factor that you should consider choosing the country. You need also to check the level of quality of the treatment. That is why we advise you to visit Turkey. You will get excellent dental help at a low cost here. Another factor affecting the price of veneers is the number of teeth you want to correct. You can get a full set of veneers to cover all front teeth. In addition, the cost of veneer treatment can vary according to the materials. You will be able to get porcelain or zirconia shells. You can read more about every type below.
Types of veneers that we provide
Clinics provide different types of veneers in Turkey. You will be able to choose the most suitable one of them for you. Our clinic offers only quality materials that provide long-term results. Our dentist will inform you about every type of veneer and help to choose the best one. They will try to advise the most suitable material that will aid in getting a perfect result. Also, our dentist will consider your wishes and will help you to get the smile of your dream. We also have prepared short descriptions of the most prevalent types of veneers for you. This information will help you to find out the difference between the materials that we provide in Turkey.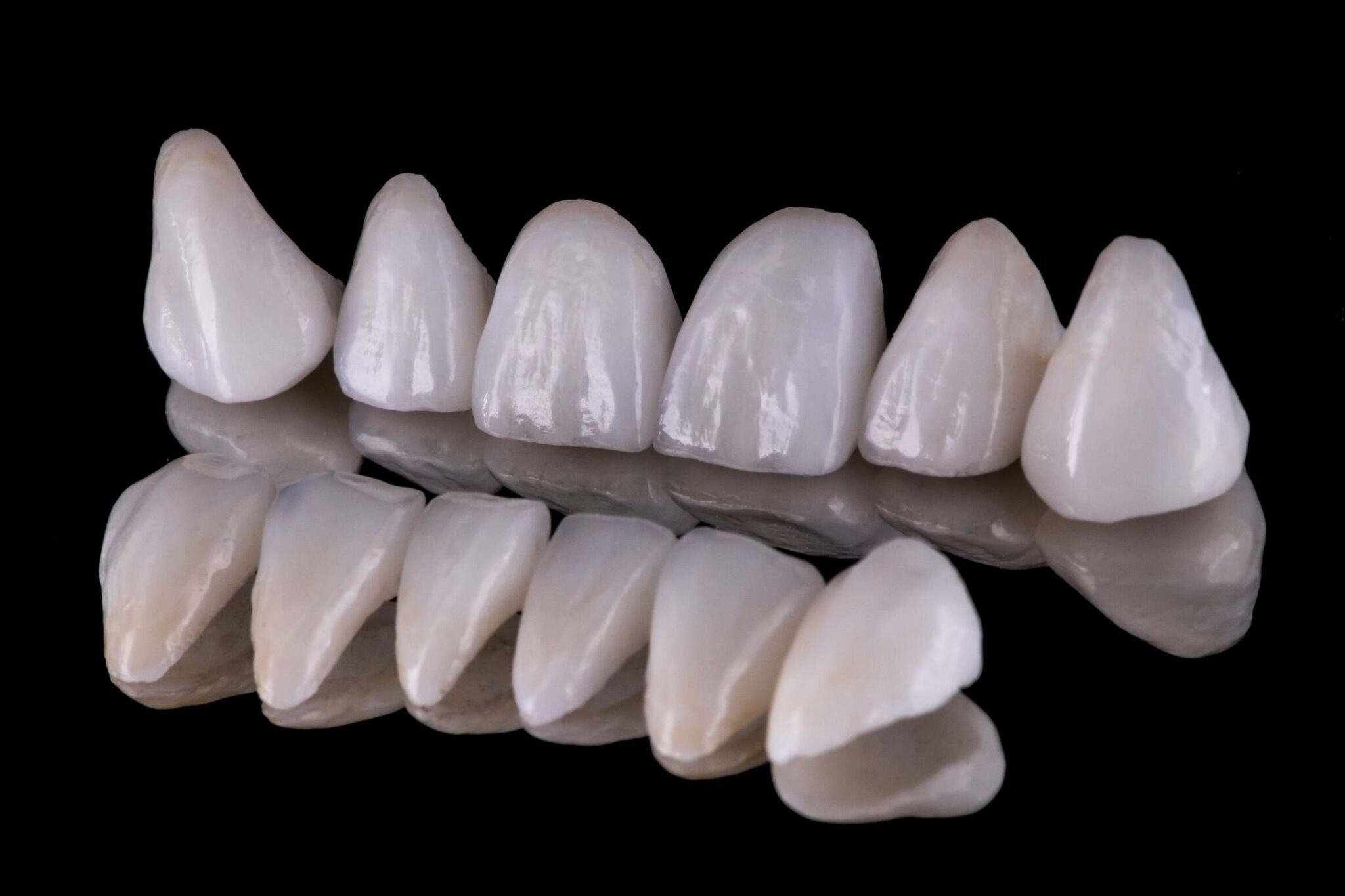 Porcelain veneers are made of ceramic. This material is a stain to resistances. As a result, you will be able to forget about the yellow smile. Also, Porcelain shells are sustainable and will serve you for 10-15 years. The main reason why patients prefer this type of veneer is the simple and quick process of their bonding. The dentist will fit the veneers without long tooth preparation. It allows saving the structure of teeth. 
Another advantage of Porcelain veneers is their aesthetic appearance. For that reason, your new smile will look natural. However, you need to remember that porcelain shells contain metal. That is why it is not a suitable option for patients with an allergy. It can cause gum diseases. As a result, they can affect the veneers. 
E-max veneers are one kind of Porcelain veneer in Turkey. However, they have several benefits in comparison to the traditional option. E-max shells are made from lithium disilicate glass-ceramic. The first advantage of this material is its transparency. Also, E-max shells are shining. That is why they provide an aesthetic appearance for the smile. 
In addition, E-max veneers are thinner and lighter than other types. For that reason, the shells will provide a natural feeling. That is why you will not suffer from discomfort the first time after the treatment. Also, you will not notice the differences between natural teeth. That is why, if you want to get the shell that will provide a high aesthetic result for you, choose E-max veneers. However, this type of veneer is more expensive than other options. For that reason, you need to count on a bigger budget for the treatment. E-max veneers are also durable and can suffer you for 15-20 years.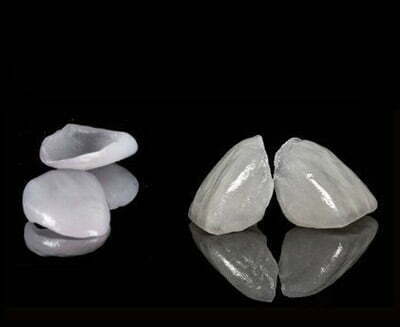 Dental luminaire veneers are also the type of Porcelain veneer. If you want to get a quick teeth correction in Turkey, this option is suited for you. Bonding lumineers almost do not provide teeth preparation. It reduces the time of the procedure. The dentist will clean your teeth and cover them with Lumeneers in just 4 days. It is an excellent option to get a perfect smile in a short time. Also, Lumineer veneers provide a natural result. 
However, you can feel some discomfort in the mouth the first time. It will pass after a week and you will be able to return to your normal life. Lumineers can suffer for 5-7 years.
Zirconia veneers are durable and natural-looking shells that allow getting a perfect smile. The main benefit of this type is its biocompatibility. Zirconia shells are metal-free and safe for people with an allergy. That is why if you want to be sure of the safety of the treatment result, you can choose this option. Also, Zirconia shells are extremely durable.
That is why you can wear them for 15-20 years. In addition, they provide an aesthetic appearance for your teeth. The reason for it is the lack of metal that can cause the dark shade for shells. The disadvantage of Zirconia veneers is the difficult process of their bonding. They can damage during this procedure. That is why only dentists with a huge experience can perform it in Turkey.  
Benefits of dental veneers in Turkey
How does veneer treatment perform in Turkey?
The process of placing dental veneers is simple and does not take a long time in Turkey. You will get the result in just 5 days. You will visit the clinic to get a consultation with the dentist. They will tell you about the stages of the treatment. You will create a plan that allows getting the smile of your dream together with your dentist in Turkey.
First of all, the doctor will check your oral health. They should find out if dental veneers are a suitable procedure for you. Then the dentist will prepare your teeth. This procedure will get only one visit. The dentist will abrase the front side of every tooth. At this time, the clinic's laboratory will make the shells.
The next step of the veneer treatment involves fitting the veneers to your teeth. The dentist will try to make your smile perfect. They will create excellent teeth for you. 
What is the difference between crowns and veneers?
Let us tell you about the difference between crowns and veneers. It will help you find out the main features of these procedures. First of all, these two methods are suitable for different patients. If you suffer from deep fillings that can cause toothlessness, you can prevent it by getting crowns in Turkey. This method will help you to increase the time for teeth lasting by protecting them from all sides. The dentist will abrase every tooth and cover them with cups.  Veneers help to correct the appearance of the smile. This procedure covers the front side of teeth. It allows getting a Hollywood smile in just 5 days in Turkey. However, this method is not suitable for teeth with bad damage. It is better to use crowns in such cases. They will protect your teeth from other diseases. 
What is the difference between veneers and fillings?
Dental fillings provide repair for the part of the tooth. The damage that the dentist will correct with this method can be placed in any part of the tooth. The dentist use fillings to repair the tooth and increase its lasting. Veneers are a dental procedure that allows to correct the appearance of the smile. It is not the method that dentists advise for repairing the tooth. Patients use veneers to cover all tooth imperfections and get a Hollywood smile.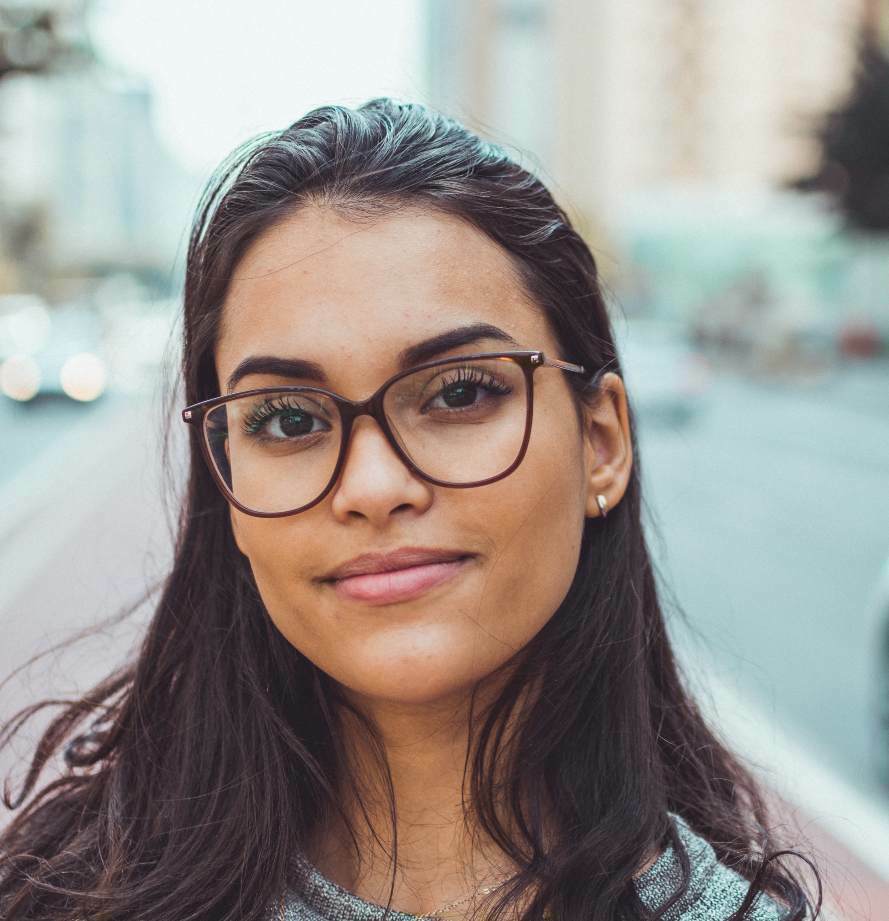 Mary
I had a procedure for facelift and rejuvenation of the face, neck and décolleté in this clinic. The procedure exceeded all my expectations. Immediately after, the face tightened as the doctor promised, the nasolabial fold smoothed out and the oval tightened well. They have a cozy atmosphere and a warm welcome. Recommend.
Ann
This was my first time at this clinic and I really enjoyed it. Stylish interior, friendly staff. You go inside and feel like you're on vacation.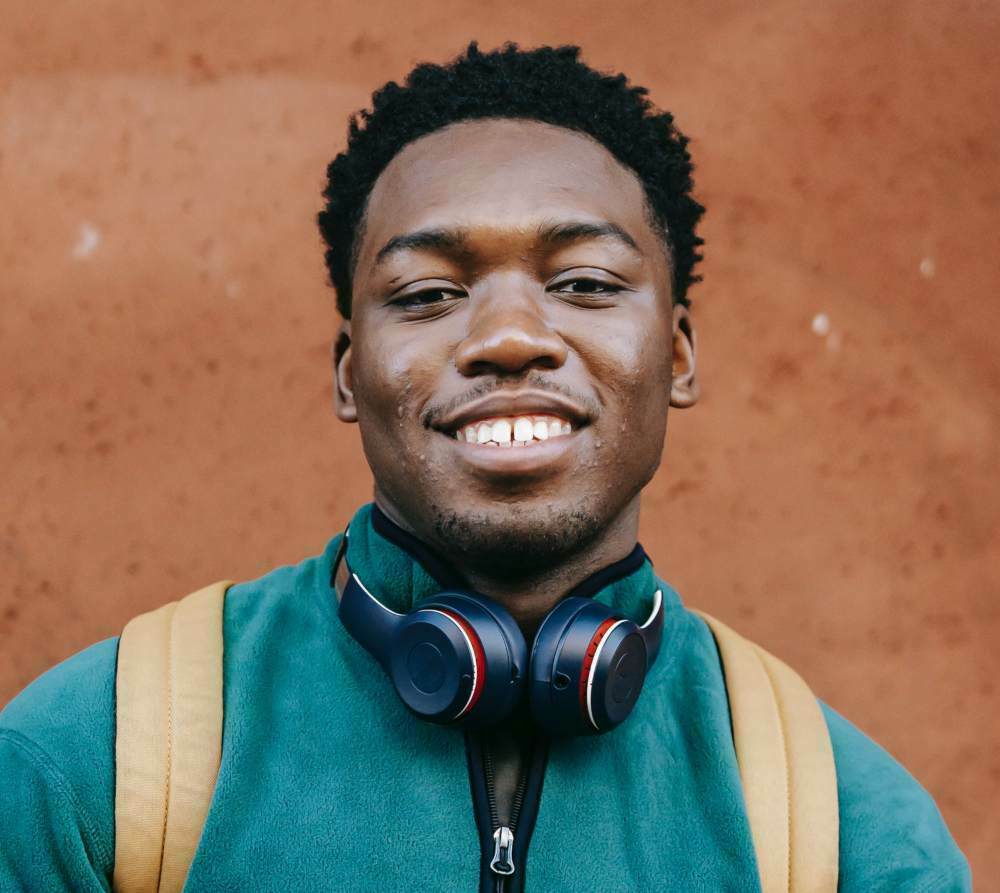 Brian
I advise the clinic to everyone - cleanliness, comfort, courtesy and professional approach are the best qualities of the clinic.
Contact Us
Have Questions?
Get in touch!
Altinkum Mahallesi Ataturk Bulvari
No: 116/AB Konyaalti, Antalya, TURKEY