Gynecomastia is the uncontrolled proliferation of male breast tissue caused by estrogen and testosterone hormones. In certain circumstances, just one breast tissue grows, whereas in others, both breast tissues expand. There are several forms of gynecomastia. The type of sickness can be determined as a result of the doctor's exams and physical examinations.
Why Does Gynecomastia Occur?
The disease's causes vary from individual to individual. The condition can develop for a variety of reasons, including a family history of gynecomastia, hormonal imbalance, significant weight gain, and therapy for other disorders. It is critical to understand how the disease manifests itself in order to treat it. Treatment is simpler if the increase in fat cells in the breast tissue is caused by weight gain.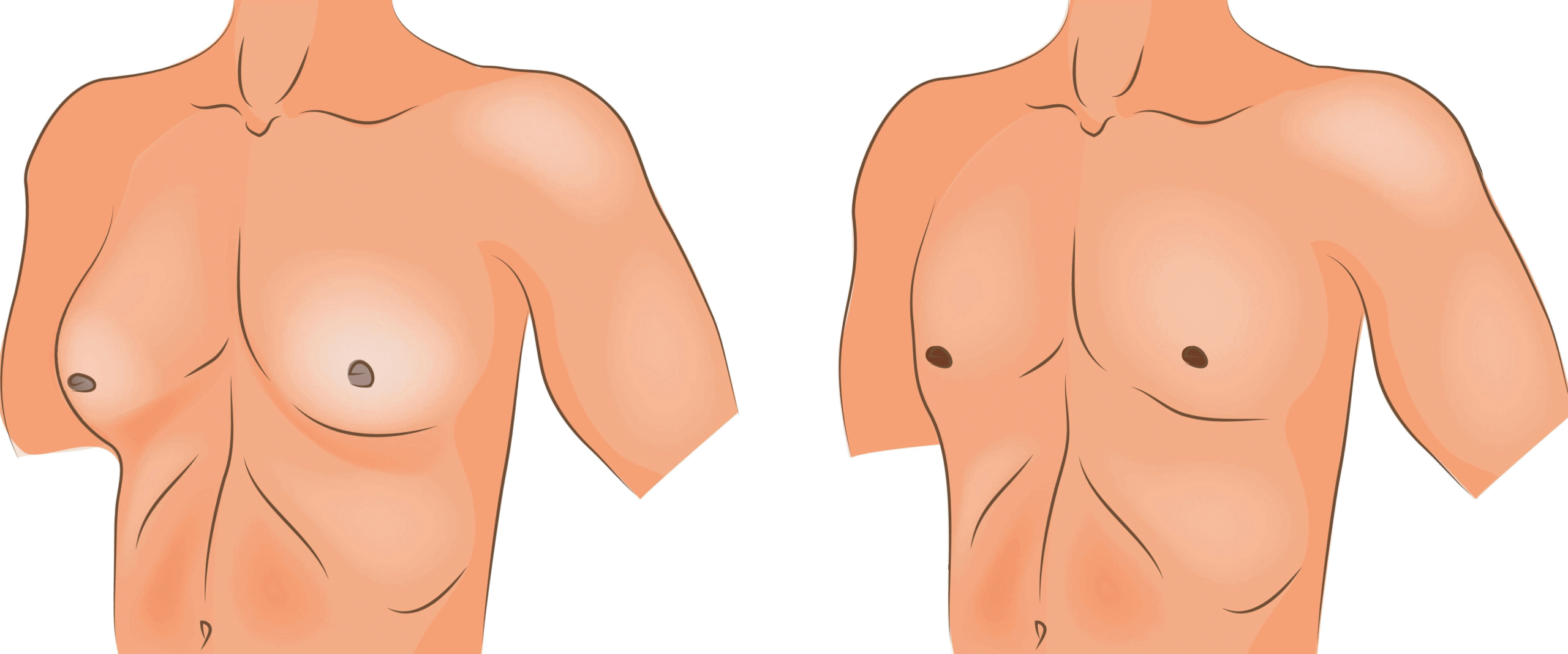 What are the Symptoms of Gynecomastia?
Sudden and quick growth of the breast tissue, nipple sensitivity, discharge and edema, pain when the breast tissue is touched, and the appearance of breast size when viewed from the outside. If you have any of these symptoms, we urge that you see a physician and have a medical examination.
What are the Types of Gynecomastia?
There are three types: glandular gynecomastia, mixed gynecomastia, and lipamatous gynecomastia. Mixed type refers to growth that occurs in both breast tissue and fat cells. Vaser liposuction should be used in conjunction with surgical intervention in such patients. It arises as a result of lipamatous weight gain. There is just an increase in breast tissue in glandular illness.
How is Gynecomastia Surgery Performed?
It is used when under general anesthesia. An incision is made from the nipple or beneath the arm, depending on the nature of the breast tissue. It is sufficient to use the liposuction procedure exclusively for gynecomastia caused by fat buildup. However, in certain circumstances, breast tissue must be removed because of hormonal growth. Cannulas are used to remove fat tissue from the wound. Skin tissue that is abundant and growing is eliminated. Finally, the suture is thrown, signaling the end of the procedure.
What is Performed Before the Gynecomastia Operation?
Before the procedure, radiological imaging examinations and blood tests are performed. Blood thinners are no longer used. Alcohol and cigarettes should be avoided for at least 10 days before the event. People suffering from chronic diseases must notify their doctors about their circumstances and the medications they are taking.
Recovery Process After Gynecomastia
There are several things to keep in mind during the mending process. Pain relievers and antibiotics given by the doctor should be taken following the surgery. There is a danger of infection as long as antibiotics are administered entirely. If a drain is placed during the treatment, it must be removed on the day specified by the doctor. The corset should be worn for a minimum of two weeks. Regular doctor's appointments should be established. Heavy lifting and sluggish motions should be avoided during the first month.
Scarless Gynecomastia Surgery
It is a liposuction operation that is performed without an incision. The breast tissue is accessed using appropriate cannulas placed beneath the arm. Fat cells that have collected in the tissue are destroyed. The vacuuming procedure is used to eliminate fat cells. The skin is tightened at the same time. There is no scarring in this process, which is performed with the use of new technological devices. Scarless gynecomastia therapy is not appropriate for many patients. It is recommended for those under the age of 45 who do not lose skin elasticity, do not have excessive sagging, and are in good overall condition. Mild discomfort may occur following surgery. As a result, it takes two months to observe the full effect of the surgery.
Gynecomastia Surgery with Incision
It is a surgery used in individuals whose sagging has progressed to the point where liposuction will not be effective. The breast tissue is incised from the underarm side. This incision is used to extract fat cells. The nipple is moved to its new location. A large amount of skin is removed. The operation is finished by sewing again once the equilibrium between the two nipples is established. It has good outcomes, particularly in people aged 45 and over. The recovery period is slightly longer. However, the effects of surgical intervention are long-lasting.
What are the Risks of Gynecomastia Surgery?
Complications include bleeding, infection, clotting, and poor wound healing. The danger of complications from procedures conducted in a hospital staffed by successful and skilled physicians is quite minimal. As a result, institutions should be chosen with caution. Receiving treatments from organizations with a high success rate and a minimal risk of problems should always be your first focus.
Does Gynecomastia Pass Without Surgery?
The breast tissue contains ducts, fat cells, and muscles. Gynecomastia develops as a result of an increase in fat cells caused by weight gain. If an increase in fat cells is the primary cause of the disease, this scenario can be rectified with regular exercise without surgery in the early stages. However, if the weight problem has reached significant proportions and drooping of the skin tissue has developed as a result of breast tissue development, surgery is required. People who want to avoid surgery should seek treatment as soon as possible.
How Long Does Gynecomastia Surgery Take?
The operation's time varies depending on several factors. The length of time depends on the amount of sagging skin to be removed, the size of the fat cell, and the procedure employed. The typical processing time is one hour. This time varies depending on the physician's level of experience and the type of anaesthetic used.
Call Our Office!
By contacting us via the contact information on our Contact Us page, you can learn about all your questions such as treatment process, accommodation, transportation and price.